Tianna Williams
---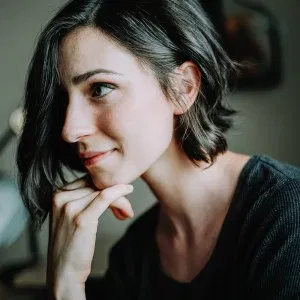 My name is Tianna Williams. I am an artist in every sense of the word and have been for as long as I can remember. I guess that's what happens when a musician and a graphic designer get together.
As a little girl, I loved sketching and colouring and creating. Whether it was a cover page for a book report, a birthday card for my mom, or a drawing of a saint to share at the dinner table, I poured my heart into it.
When I was about 12 years old I received a set of pastels and acrylic paints and all the necessary brushes and sketchbooks for Christmas. For months I painted or drew (pastelled?) numerous pieces. I used anything for reference—candles on the kitchen table, dancing figures, a quaint bridge spanning a trickling brook.
After a time I became discouraged with my lack of talent and began to pursue other hobbies. When I was sixteen I began my career as a graphic designer, and I was fully enveloped by the digital medium. Then one year my sister received a Wacom tablet for Christmas, and I began to explore the realm of digital painting.
Lire la suite sur le site ti-spark.ca
Catégorie : Tianna Williams
Nouvelles oeuvres d'art Les plus vues Les mieux notées
Afficher ces oeuvres d'art en diaporama
Oeuvres d'art « Tianna Williams »